Promote your newsletter for Etsy sellers
Published by Mattias
Last updated March 14, 2020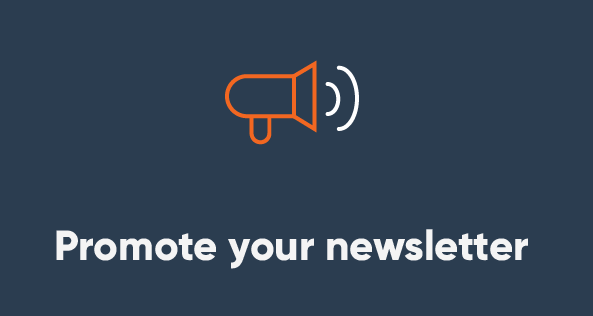 People won't subscribe to your newsletter automatically, so promoting your newsletter is crucial, and maybe the most challenging aspect of email marketing.
Your customer's attention is limited, so you need to experiment a lot to find out what works best for your Etsy shop. Let's go through some tactics.
The first question you should ask yourself is, why should anyone subscribe? Try to think in terms of incentives, for example:
Subscribers will receive offerings and discounts.
You will give money to charity for each new subscriber.
Subscribers will learn more about you and their product.
Subscribers will receive giveaways and early access.
Subscribers will be part of a community.
When you have thought about what value you will provide to each subscriber, let's look at some channels where you can promote your newsletter.
3.1 Website
If you have a website like some Etsy sellers, then you can implement a subscription form that lets your visitors subscribe. We recommend you to use a code snippet which your email marketing service provides.
If you have a website built with Wordpress, Drupal, Wix or Shopify, search for your email marketing service in their app/plugin store. This will help you with the integration.
3.2 Landing page
You can promote your newsletter on a separate landing page. A landing page or a lead page is a standalone web page. You create a landing page for a specific purpose, which is to make visitors subscribe.
Pro tip: If you are a subscriber to Craftkit, you will automatically have a landing page. View example.
3.3 On your Etsy shop
Another channel where you can promote your newsletter is in your Etsy shop. There are plenty of Etsy shops that have a link for subscribing either in their header, as their website link or in listing descriptions.
3.4 Email
You can also use email to increase the number of subscribers. Every time you receive a new order, it is a good idea to reach out with a few kind words, which also is an excellent opportunity to promote your newsletter.
Pro tip: This can be set up automatically using the Messenger App from Craftkit.
3.5 Social media
Many successful shops on Etsy use social media. Try to encourage your followers on social media to subscribe. We have seen social media accounts pinning a link to their newsletter on the top of their Facebook page. On Instagram, it is common to add a link in the description or in a story highlight.
In the final step, we will look into how to optimize your email marketing. Learn about when is the best time to send emails and keep track of your performance.
Step 4 » Optimze your email marketing for Etsy
Craftkit Weekly Digest
Stay updated on what happens in the Etsy community.