Etsy Offsite Ads: Pros & Cons
Published by Mattias
Last updated February 27, 2020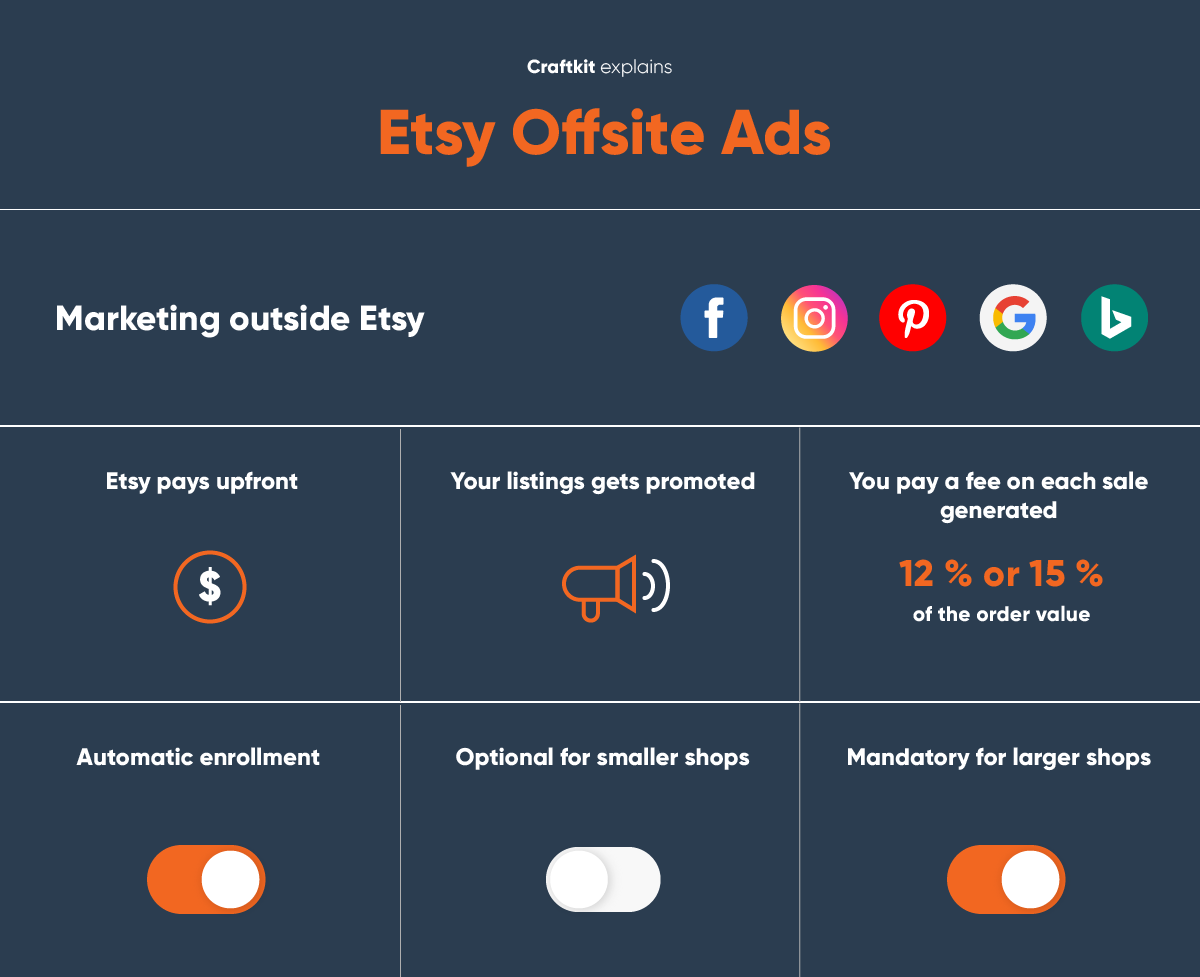 Etsy recently disclosed that they are making some changes to how you are able to promote your listings using their advertising services. In this article, we try to pin down what the changes mean for Etsy sellers and what the pros and cons are.
What are "Offsite Ads"?
Etsy will pay for ads to promote your listings on platforms outside of Etsy, such as Google and Facebook. If a customer clicks on one of those ads for your listings, and buys from your shop within the next 30 days, Etsy will charge you a advertising fee of 12% or 15% of the total order value.
The facts
To get a better understanding of exactly what Offsite Ads are, let's start with pinning down some facts.
The platforms Etsy will advertise on are Google, Facebook, Instagram, Pinterest, and Bing.
An "attributed order" is an order that originated from a click on an Offsite Ad for your listings.
If the time between the click and the purchase exceeds 30 days, it will not be considered to be an attributed order.
If a customer clicks on an ad for another shop and then goes to your shop to make a purchase, neither you nor the other shop owner will have to pay any Offsite Ads fee.
Some Offsite Ads terms apply differently depending on shop size; a sales threshold at $10,000 USD during the prior 365 days. The threshold is based on item sales, and does not include shipping, giftwrapping or taxes, for example.
Shops that have made less than the $10,000 USD, will be able to opt out of Offsite Ads. Shops that have made more than the $10,000 USD have to use Offsite Ads, whether they like it or not.
The Offsite Ads fee for shops that have made less than the $10,000 USD is 15% of the total order value on attributed orders. For shops that have made more than the $10,000 USD, the is fee is 12%.
As an effect of launching Offsite Ads, Etsy moves Google Ads from Etsy Ads to Offsite Ads. This means that Etsy Ads will again only be displayed on Etsy and be more similar to when they were called Promoted Listings. You will still not be able make custom bids in Etsy Ads, which used to be possible.
The maximum Offsite Ads for a single order is $100 USD.
Offsite Ads will roll out in March, 2020.
The first fee charges for attributed orders will take place in April, 2020.
All shops will be automatically enrolled.
An example calculation with Offsite Ads
Let's say you made $5,000 USD during the 365 days prior to when Offsite Ads will be rolled out. This means that your fee rate will be 15% and you are able to opt out, if you want to.
On the first day you get lucky and sell an item for $100, plus shipping for $10 and Etsy applies $10 sales tax. On this order, you will pay an Offsite Ads fee for the item and the shipping price, but not the sales tax. In other words, your fee would be $110 * 15% = $16.5.
The Pros
Let's continue with what we think are pros with Offsite Ads.
Your Etsy Ads budget will now only used be for advertising your listings on Etsy, and not on Google. Which is a step back toward how Promoted Listings used to work.
When buying online ads, the costs and Return On Ad Spend (ROAS) can be very unpredictable. Offsite Ads makes this process completely predictable, since you always know that you either pay 12% or 15% of the order value.
A 15% advertising fee effectively means a 6.67x Return On Ad Spend (ROAS), and 12% a 8.33x ROAS. These can be considered to be very high, as in our experience a typical ROAS is about 2-5x.
Managing ads on many different platforms, and especially being aware of the peculiarities of the platforms, can be very difficult and time-consuming. Offsite Ads manages the ads automatically on five different platforms.
This will increase the total advertising budget and likely result in much more traffic to Etsy in general, which is a win for the whole community.
The Cons
As with everything, there are also a few cons to consider.
Shops over the $10,000 USD threshold can't opt out, if they would want to.
If you already run ads for your Etsy shop or your website on the same platforms as Offsite Ads applies to, you could potentially bid against yourself.
Based on how Etsy Ads has worked with Google Shopping, you will likely not have any control over your Offsite Ads. Instead, their appearance will likely be based on the information available on the listing, such as images and the title.
Conclusion
When Etsy launched the new Etsy Ads late 2019, it was met with a lot of bitterness and opposition from the community. The biggest cause for this seemed to be that everyone was forced to pay for Google Ads, even if most people only wanted to advertise on Etsy. We think that the fact that Etsy effectively now reverts this change by moving Google Ads to Offsite Ads, which won't affect your Etsy Ads budget at all, is a sign that Etsy actually does seem to listen to the community.
In a way, Offsite Ads is nothing new. Etsy has for a long time been advertising many, many listings on these platforms at Etsy's expense. The difference is that now when shop owners also start to pay for this, Etsy gets the budget to scale this out, likely by a lot. But given the high Return On Ad Spend (ROAS) Etsy promises for Offsite Ads, we still believe that Etsy will need to subsidize the ads. This means that low-converting shops will likely not get many ad views. So optimizing your listing images and titles might get even more important.
In a few months, you will likely get a decent indication on how well Offsite Ads works for your shop. We hope you are as excited as we are to see how it plays out.
What do you think about Offsite Ads? Let us know in the comments below.
Sources and useful resources
Craftkit Weekly Digest
Stay updated on what happens in the Etsy community.